Trailering Your Boat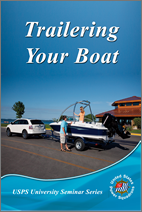 Discover how to safely trailer your boat to areas with better fishing, weather, or camping facilities. You'll gain the skills and tips needed to safely move your boat as well as maintenance hints and boat ramp etiquette. Get tips on protecting your gear before, during, and after transit, and learn the "one-block rule."
Discover how to select tow vehicles, hitches, and trailers; how to safely and securely trailer your boat; techniques to launch and retrieve it, and how to operate and maintain your trailering equipment. The seminar includes video segments provided by the US Coast Guard and excellent slide notes.
You will learn:
The challenge of trailering
Choosing your vehicle
Types of hitches
Choosing and equipping your trailer
The art of towing
Launching your boat
Trailering sailboats
Maintenance